Baby girls are in fact the mirror of their mothers and they are very fun to dress up. Their little clothing, shoes, and cute accessories come in various beautiful combinations. But in fact, only hair accessories can for baby girls can add extra flair and feeling of style to any look. While shopping for baby hair accessories parents have lots of options to choose from available on the market today. And each type is created to be the best one for the child's hair length and type. The article will tell about five most frequent ones that are easy to purchase in any store for babies or make as a hand-made thing. Check the options and choose those perfectly fitting for your little princesses!
Read the rest of this entry »
The brand new BB-8 droid has taken the internet in frenzy. When the droid was first introduced, it had die hard Star Wars fans drooling over it. Disney and the famed robot making company, Sphero, merged their efforts and created the adorable, hands-down the best droid so far the BB-8. The droid was first seen at IFA in Berlin, Germany.
Read the rest of this entry »
Carla Morrow is pleased to announce the launch of "Little Wings Baby Dragon" Plushie toys STRETCH GOALS on Kickstarter
Carla Morrow of DragonLadyArt has launched a successful campaign on Kickstarter already hitting over 105% of her goal with a further 16 days to go – however that's not the end of the campaign – Carla has stretch goals to hit, that will unlock new and larger than life Little Wings Dragon Plushies

An ADORABLE, cuddly baby dragon plushie for you to hug and love! Brought to life from the world of Little Wings Dragons by Carla Morrow
The first collectible art plush to be kickstarted into production will be "I can haz Fairy… NOM NOM NOM". He is made from super soft minky fabric for extra cuddlyness. All of his features such as eyes and spots are embroidered, so he is safe for all ages, and with wire pose-able wings, he is extra expressive! At a large, full 12 inches tall, and almost 12 inches from front to back he is the perfect size for Hugs of any type!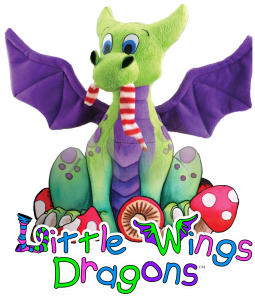 With great perks available as part of the campaign including:
• PDF colouring book with 1 digital background
• Exclusive mini prints
• And of course PLUSHIES!
Check out the Little Wings Dragons Collectible Plushie crowdfunding campaign on Kickstarter at:
https://www.kickstarter.com/projects/dragonladyart/little-wings-dragon-plush-a-baby-dragon-to-cuddle
Remember to support the campaign to receive your exclusive collectible plushies while they are still avaiable.
Carla Morrow, Artist and owner of DragonLady Art Studio announces her first plush collectible doll based on her world of mischievous baby dragonlings called the Little Wings Dragons. She has been painting watercolors from this world since 2008, and is now working with a plush studio
Morrow has been venturing through the art world since 2006. Using watercolor she creates visions of dragons and other mythical creatures that roam the depths of her imagination. She has sold her artwork at art shows, renaissance fairs, and conventions both locally and abroad. Sharing her ideas and selling her work is a real passion for her, though most of her paintings are more on the serious side of the fantasy spectrum.
When your kids show signs of interest in music, then you can help nurture their curiosity with an app for their Android device. While it is true that you can find a lot of music app out there, but when it comes to functionality and features, there are only a few apps that can rival Let's play with DingDong app. With this nifty little app, it will help nurture the creativity and imagination of your kids. In fact, once you try it, you won't be surprised if you consider it as the best in its genre. If you want to know more about Let's play with DingDong app, then you are in the right place as we will explore and review the specific android media app.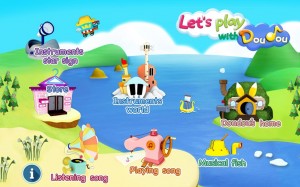 Read the rest of this entry »
New Line Venture is a new, creative mark in the field of marketing. It is like a general store or a supermarket. Customers can find literally anything they are looking for here. It is a one stop shop to everything online. The range of products they offer relates to but is not limited to are those such as men's women's and children's clothes, shoes, accessories, jewelry, tools, electronic items, etc. All of the products offered here at New Line Venture are of great quality, bound to meet the consumers' expectations.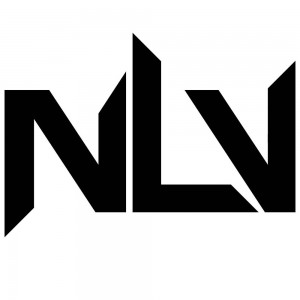 Read the rest of this entry »
There are a lot of toys for gamers out there. The market is quite lucrative, but are there any controllers that actually deserve your attention?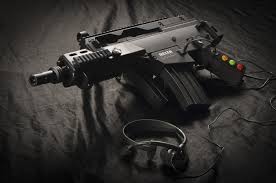 Believe it or not, Legos are the most popular toys ever created. From the very young to the very old, everyone can enjoy playing with and creating with these durable plastic blocks. Read the rest of this entry »
If you are a teacher of over 20 students in a classroom, you will have to assure that you must see over a couple of birthdays coming this year in school. Usually a typical song of "Happy Birthday" is sung for these small celebrations so that the special day of birthday boy or girl can be memorable. The birthday event started losing its charm after a few years. So, in order to bring back the zing in this special day of your student, make sure to use more fun and entertaining birthday songs for kids.
Kidult, a handy abbreviation of the terms kid and adult combined, is a grown-up caring about his inner child. Kidult is a fun and playful individual with a desire to always live young and feel young.
They like watching cartoons on a Saturday night, gulping down gummy bears and strawberry milkshakes. Kidults are proud as LEGO collectors who are more than willing to compete with little kids for the latest Simpsons mini-figures. They would go crazy after the new Batman Adventures Batman action figure that just came out. It doesn't mean they are immature and refuse to grow up. These people are responsible adults who seek to have a little fun in their lives, who are still young at heart. Read the rest of this entry »